Gauge Block Set
Application
Gauge block can be used to adjust the precision lathe and rule for the machining by measuring the parts dimensions.
Gauge block with high accuracy plays an important role in the quality inspection.
Gauge block can proofread the instruments of testing organization.
Characteristics
Every Gauge Block set will be attached with test report to ensure it has 100% qualified dimension and tolerance.
Gauge Block set can used for a long time even without special protection and maintenance because of good corrosion resistance and wear resistance.
Gauge Block set has good stability after high precision surface processing causing that the temperature has little influence on it.
Gauge block provided by our company can be divided to 3 types according to their materials: white steel, tungsten steel, and ceramic. The size of them has a range of 1-100mm. All products with accuracy of 0, 1 and 2 are validated by EISEN standard.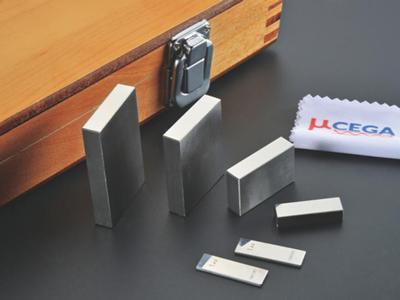 As for the white steel gauge block, the special demagnetizing process can ensure the stability of the dimension accuracy and hardness of HRC62-64.
Material: White Steel
Relative density: 7.8
Hardness: HRC62-64C
Expansion coefficient: 11.5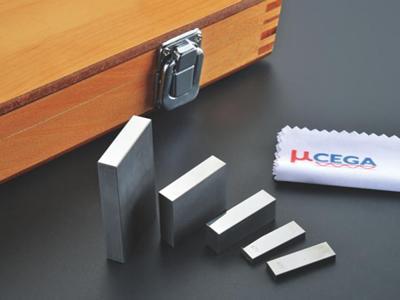 Tungsten steel gauge block is processed by special technology to gain higher hardness of HRA91 and wear resistance. It a product with high precision and little deformation.
Material: Tungsten Steel
Relative density: 15.0
Hardness: HRA91
Expansion coefficient: 5.5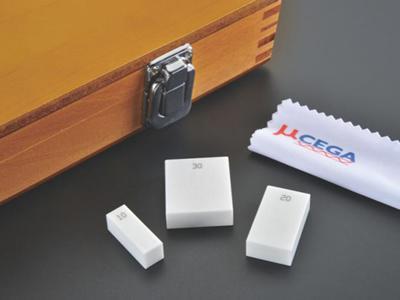 The temperature has little influence on ceramic gauge block. Its high wear resistance makes it have longer life (five times of steel material). It can used in precision measurement for a long time even without protection and maintenance because of good corrosion resistance. In the meantime, the special microcrystalline material and high precision surface processing make it stable enough.
Material: Ceramic
Relative density: 6.0
Hardness: HV1200
Expansion coefficient: 11
Accuracy class parameters
Nominal Length
Lever 0
Lever 1
Lever 2
Limit of Tolerance (±)
0.5-10
0.12
0.20
0.45
10-25
0.14
0.30
0.60
25-50
0.20
0.40
0.80
50-75
0.25
0.50
1.00
75-100
0.30
0.60
1.20
100-150
0.40
0.80
1.60
150-200
0.50
1.00
2.00
200-250
0.60
1.20
2.40
250-300
0.70
1.40
2.80
300-400
0.90
1.80
3.60
400-500
1.10
2.20
4.40
500-600
1.30
2.60
5.00
600-700
1.50
3.00
6.00
700-800
1.70
3.40
6.50
800-900
1.90
3.80
7.50
900-1000
2.00
4.20
8.00
Notes
Precision Standard: DIN861-1980(Germany) 20°C Accuracy (Mm)