Ruby Ball Precision Stylus
Product description
The stylus used on high precision CMM is that part of the measuring system which makes contact with the component, causing the probe's mechanism to displace. The generated signal enables a measurement to be taken.
Precision stylus include stylus ball and stem. According to the RENISHAW standard, YUKAI stylus balls are produced to the highest standards to ensure maximum rigidity and corrosion resistance. Its accuracy grade is 5 and its roundness is 0.13μm.
Stainless, tungsten steel, ceramic and carbon measuring pole materials are available. Besides that we can provide different types according to your need. You can find these detail information in the below graph.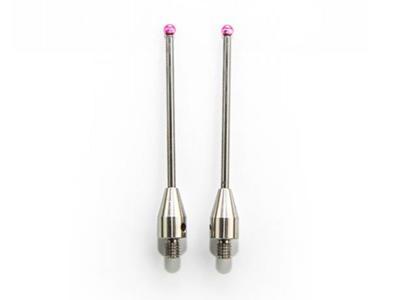 Tungsten carbide stems are best used for maximizing stiffness with either small stem diameters required for ruby ball diameters of 1 mm and below, or lengths up to 50 mm.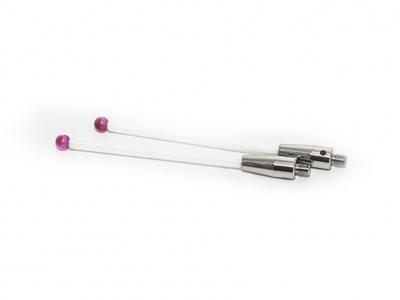 For ruby ball, diameters greater than 3 mm, and lengths over 30 mm, ceramic stems are significantly lighter than tungsten carbide. Ceramic stemmed styli can also offer additional crash protection to your probe as the stem will shatter in a collision.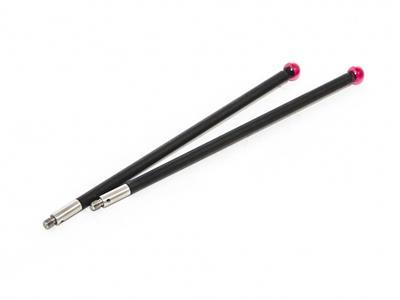 Carbon stylus stem is ideal for maximizing stiffness while giving very low mass for styli above 50 mm in length. It is the optimum stem material for high-accuracy strain gage technology probes with excellent vibration-damping characteristics and negligible co‑efficient of thermal expansion.
Characteristics
The stylus ball has high stability when using. No falling happened.
The Swiss stylus ball of grade 5 is approached the highest standard which is the same as RENISHAW.
We optimize the rigidity of the stylus stem by adopting different materials for different styli.
Parameters
| | |
| --- | --- |
| Accuracy Grade | Grade 5 |
| Roundness | 0.13μm |
| Threaded Connection | M2, M3, M4, M5 |
| Ruby Ball Diameter | 0.3, 0.5, 0.7, 1.0, 1.5, 2.0, 2.5, 3.0, 4.0, 5.0, 6.0mm |
| Overall Length | 2mm~300mm (customization service available) |