Our company is specialized in precision mold components. We use advanced production equipment, precision measuring instruments, high quality grinding, professional production team, providing customers with quality products including mold components, measuring tools, automatic parts and fasteners. Accuracy can reach tolerance 0.0003mm, and the size can reach 0.05mm. Besides that, we are validated by the industrial standards of JIS, DIN and AISI.
Raw material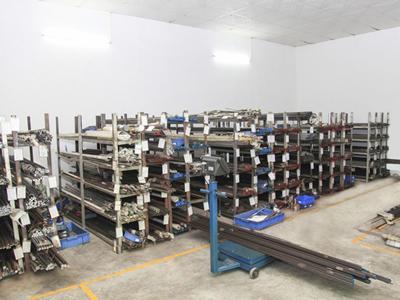 You can freely use hundreds of different kinds of metal and alloy to accomplish manufacturing of fine parts. When choosing materials, please consider the features, processing performance, appearance and cost of the material. Yukai has employed industrial analysis and material application engineer who has over 20 years of working experience. We can provide the best solution for you. We can improve precision of products and prolong service life of products by using different raw materials with ideal hardness and various surface treatment.
Yukai can treat various kinds of materials including: alloy steel, steel, stainless steel, aluminum, alloy titanium, special steel, brass, copper, plastic etc.
Equipment List
We are equipped with 66 processing equipment, which consist of 6 CNC machines, 4 CNC machines and 17 lathes and 13 grinders.
The diameter tolerance is 0.5μm, the coaxial precision is 0.2μm, the roundness precision is 0.3μm, and the surface roughness is Ra0.04. The processing range of outer diameter is from 0.06mm to 300mm, and the range of length is 0.5mm ~2000mm.
CNC digital lathe
It has pre-programmed processing program to accomplish the parts machining including not only the cutting of internal and external cylindrical surfaces of the axis parts or plate-parts, conical surfaces of all kinds of taper angle and tapered treads, but also operations of grooving, drilling, reaming and boring, etc.
Precision digital CNC machines
Compare to the digital lathe, precision digital CNC machines has higher precision and efficiency because it can accomplish the operations of turning, milling, drilling and boring in the meantime. It is a good choice for the manufacturing of precision metals and irregular non-standard axis parts.
Machining center
Automation is the biggest advantage of this machine and it is also the reason for its high efficiency. Once the part is clamped, this digital machining center will automatically choose and replace the cutter, provide the optimum rotation speed of the principal axis, feed rate and the relative track of the workpiece and other parameters. Besides that, it can also accomplish a series of operations continuously including drilling, turning, boring, tapping and milling and so on.
Quality control system
We have a complete QC system to ensure the products quality. We have strict control from the raw material source to the shipment. More specifically, we have material test record, self-inspection and routing check, finally, all shipments will be attached with the qualified test report from our quality department.
We have constant temperature room with 20±2℃, in which there are salt spraying tester, hardness tester, roughness tester and altimeter as well as metallurgical analyzers and micrometer.
Salt spraying tester: it is responsible for testing the corrosion resistance of the products.
Hardness tester: it is responsible for testing the hardness of the products.
Roughness tester: it is responsible for testing the roughness of the products.